TTIP, banche, finanziarie, recuperare sovranità
04/10/2012
INDIA - ITALY
Kerala lawyer: ballistic tests on Marines' weapons "irrefutable proof"
According to the report of the Forensic Sciences Laboratory in Trivandrum, the bullets extracted from the bodies of two fishermen in India correspond to two Beretta rifles found on board the Enrica Lexie. Vincent Panikulangara, High Court of Kerala: "We must wait for the judgment on jurisdiction."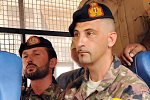 Kochi (AsiaNews) - "The report of the Forensic Sciences Laboratory is conclusive proof", says Kerala High Court lawyer Vincent Panikulangara to AsiaNews, commenting on the results of a ballistic examination on the weapons seized from the Enrica Lexie, that the...
---
04/10/2012

INDIA


Priest beaten, insulted and threatened with death during Easter in Orissa


by Nirmala Carvalho




A group of Hindus attack Fr Sisirakant Sbhanayak, parish priest in Sukananda (Kandhamal District) on four occasions during Holy Week. The attackers wanted to destroy a path that leads to a Lourdes Grotto attached to the local church. During anti-Christian pogroms in 2008, the church was demolished together with the home of the Sisters of Mother Teresa.

04/05/2012

INDIA - ITALY


Bishop of Orissa: We pray for a soon and safe release of Maoist hostages


by Nirmala Carvalho




Bishop John Barwa, archbishop of Cuttack-Bhubaneshwar: "In this Holy Week, the Lord's peace, truth and justice must prevail." Today the State Government should release 23 prisoners in exchange for the release of Paolo Bosusco and Indian Parliamentarian Jhina Hikaka. Among prisoners, 15 are part of an organization of workers and peasants suspected of links with the Maoists.
---
04/05/2012

ASIA


Asian stocks down: fears for European debt, while oil rises


Tokyo, Seoul, Hong Kong lost at least 1%. Shanghai also drops, because of the state banks, hit by Wen Jiabao's "no" to their monopoly. Federal Reserve reluctant to new stimulus measures.

04/04/2012

INDIA


India "rents" first nuclear submarine from Russia


The K-152 Nerpa, renamed Chakra Ins II, will cost New Delhi about one billion dollars over the next 10 years. The submarine will not carry nuclear weapons but will carry cruise missiles. Meanwhile, New Delhi's first nuclear submarine, the Arihant operative next year.

04/02/2012

INDIA - ITALY


Kerala, Christian lawyer: Let justice take its course in marines' case. We are a democratic country


Kerala High Court decides for another 14 days judicial custody. Hearing postponed. According to Vincent Panikulangara, a Lawyer at Kerala High Court and the Supreme Court of India, "what is happening falls into the usual procedures of our criminal code." He states: "India is a democratic country that loves Italy and its people."

04/02/2012

ASIA


The courage to wish for a happy Easter


by Bernardo Cervellera




Syria and the Christians; Afghanistan and women, Orissa and the Maoists, China and the power struggles, Vietnam against the Vatican: the horizon of Asia and the world looks very bleak. Easter is not the chocolate egg or exaltation of the suffering of the vanquished: it is God who allowed himself be crucified to destroy evil and to rise again victorious. On the night of Easter many in Asia will become Christians because they understood that Jesus Christ is the strongest.

04/01/2012

VATICAN


Pope: As Holy Week begins we ask ourselves, who is Jesus of Nazareth


Benedict XVI celebrates the rite of Palm Sunday, which begins Holy Week and coincides with the 27th World Youth Day. Receive from Christ " a look of blessing: a wise and loving look, capable of grasping the world's beauty and having compassion on its fragility ", because God does not feel "disgust" for any of the things he has created. To the young: Palm Sunday is "the day of decision, the decision to welcome the Lord and follow him to the very end", as did St. Clare, for whom we mark the 800th anniversary of her conversion and consecration. "Praise", "thanks" and "prayer" to "be in profound communion of love with Christ who suffered, died and rose again for us."

03/31/2012

SAUDI ARABIA - INDIA


Indian Christians against the Grand Mufti of Saudi Arabia, who wants to eliminate all churches


The appeal of the All India Christian Council (AICC) to the Indian government. In Saudi Arabia and the Gulf region home to many Indian and Filipino Christians who suffer violence and discrimination. The mufti's words contrary to United Nations Charter.

03/30/2012

INDIA


Karnataka: Protestant clergyman risks jail, attack against him seventh case in 2012


by Nirmala Carvalho




Hindu nationalists from the Rashtriya Swayamsevak Sangh (RSS) beat Rev Mallikarjun Sangalada and four of his parishioners, after accusing him of engaging in forced conversions. The five victims were coming home from a prayer meeting. The pastor has been the head of a community of 35 members for the past two years.

03/30/2012

BANGLADESH


Conversion to Christ in Bangladesh: marriages, social dissatisfaction and the search for God


by Maria Gomes




Changing from one religion to another is a complex process where often material and spiritual interests are confused. Islam is the state religion, but the constitution guarantees freedom of religion and the conversions are generally accepted. Legal pressures for Muslims who convert to Christianity. Among the tribal at least 10 years of catechumenate, to ensure genuine conversion.
»
06/11/2010 22:18
INDIA
Orissa: more anti-Christian persecution
by Nirmala Carvalho
A group of Hindus torture young Christian man. Using violence, they drag him to a Hindu temple, where they "re-convert" him. Police charge five of six attackers, but without taking them into custody. Christian activist believes that "hidden interests" are behind incidents of this type.
Bhubaneswar (AsiaNews) – Even if peace is slowly returning to the District of Kandhamal, the State of Orissa continues to be the scene of anti-Christian violence. A young Christian was recently beaten, tortured and dragged into the middle of his village, where his tormentors forced him to undergo a ceremony of reconversion to Hinduism.
The incident, which occurred last Tuesday in the District of Nuapada, saw six Hindu extremists attack a 19-year-old man, Bhakta Bivar, at his home. They ransacked the house, seriously injured him but did not carry out their plan to kill him and his entire family because Bhakta's parents, Neheru and Budhabari Bivar, were not at home.
During their rampage, the hooligans took away four Bibles. Before dragging the young man out, they also tortured him. On their way to the local Hindu temple, they beat him. Inside the building, amid kicks, slaps and insults, they "re-converted" him to Hinduism.
Local police moved in the day after. Superintendant Bibek Rath arrested five of the six assailants, Siba Prasad Jha (22), Bijoy Punji (20), Samita Patra (23), Girish Panda (23) and Jasobanta Ada (20), and charged them. Then, he let them go.
Sajan K George, national president of the Global Council of Indian Christians, told
AsiaNews
that the kind of violence is not random.
"There are hidden interests behind the threats and violence against the Christian community in Orissa. Just as the community was slowly learning to live a normal life again after the 2008 pogroms, we get this kind of violence."
(Santosh Digal contributed reporting for this article)
| | | |
| --- | --- | --- |
| e-mail this to a friend | printable version | |