Nations have lost their sovereignty occult powers banking seigniorage enlightened Masons Satanist are in control of history of people with Council of Foreign Relations, Bilderberg Group, Trilateral Commission. CSPBCSSMLNDSMDVRSNSMVSMQLIVB. This place is sacred, I'm erecting the temple, for my High Priest jew! This forces your efficiency, an angel is responsible for the observance of respect, dignity and truth of all these your statements.
SYRIA and Jihad saudi
"Who will rise up for me against the evildoers? or who will stand up for me against the workers of iniquity?" ―Psalm 94:16
Jesus Christ is the
ONLY way to

Heaven

!!!

King James Bible 1611





Saturday, July 21, 2012

"I am the way

,

the truth

,

and the life; NO MAN cometh unto the Father

,

BUT BY ME."— Jesus Christ (John 14:6)
---

Evil triumphs when good men do nothing!

---

The threat of

a

nuclear

disaster

is

imminent.

The New World Order is here! The stage is being set for the antichrist.

Mankind is

destined for total

destruction!

---

---




---

"He was in the world, and the world was made by him, and the world knew him not." (John 1:10)

"Knowing this first, that there shall come in the last days scoffers, walking after their own lusts, And saying, Where is the promise of his coming?" —2nd Peter 3:3,4

---

---

---

---

---

---

---

---

---

---

---




---

---

---

---

---

"Beware of false prophets, which come to you in sheep's clothing, but inwardly they are ravening wolves."
—Matthew 7:15

---

Was your distant grand-daddy a gorilla? Sadly, some people would like for you to be believe so. There is not one shred of proof of Evolution, only unproven theories and speculation.

---

T

or

those

who

have

faith, no explanation is necessary

:

To

those

without faith, no explanation is possible.


---

"GREAT is the LORD and GREATLY to be praised, and his GREATNESS is unsearchable!"

—

Psalm 145:3

---

The central bank is the worst thing to ever happen to America! Now we have to pay for three homes just to get one. America is in deep trouble!

"

The central bank is an institution of the most deadly hostility existing against the Principles and form of our Constitution. I am an Enemy to all banks discounting bills or notes for anything but Coin. If the American People allow private banks to control the issuance of their currency, first by inflation and then by deflation, the banks and corporations that will grow up around them will deprive the People of all their Property until their Children will wake up homeless on the continent their Fathers conquered.

"


—Thomas Jefferson (1743-1826)

---

The threat of

a

nuclear

disaster

is

imminent.

Mankind is

destined for total

destruction! America is

worse than

Sodom

and Gomorrah

. God bless America?

??

---

The truth can be dealt with, a lie cannot!

---

The best way to fight the darkness is to shine the

L

ight

!

---

Click and Drag

my

website's FAVICON from the "Address" window onto your "Links" bar. You should see a HEART,

because

I

love you and there's nothing you can do about it!

---





---

Jesus Never Changes!




—

Malachi 3:6; Hebrews 13:8

---

---

Psalm 47:8, "God reigneth over the heathen: God sitteth upon the throne of his holiness.

"

---

National Atheist's Day, April 1st

---

---

"The man who reads nothing at all is better educated than the man who reads nothing but newspapers."

―Thomas Jefferson(1743-1826)

---




---

For the New World Order to create a one world government, they must control a central bank, eliminate the Constitution, end Christian values, disarm America, and control the media.

The Council on Foreign Relations has openly said they will take us over in favor of a one world government. The American people must be warned or we may lose our freedom forever.

If we do not demand our rights and uphold the Constitution, the CFR and bankers will continue their march toward socialism.

If we allow them to continue, they will abolish our rights and put an end to our present government.

Freedom isn't free!

---

---

"For there are three that bear record in heaven, the Father, the Word, and the Holy Ghost: and these three are one."

—

1st

John 5:7

(the Godhead)

---

---

---

---

---

---

---

---

---

---

---

---

The heroics of Christian brothers and sisters who were martyred

for Jesus!

---

---

---

---

---

---

---

---

---

---
"Old-fashioned, Spirit-filled, Christ-honoring, sin-hating, soul-winning, Bible preaching! It is the hope of the church! It is the hope of the nation! It is the hope of the world!"
—
Pastor Jack Hyles
(1926-2001)
---
---

Souls are Dying
Sword of the Lord Publishers
"

I've stood for more sneers and scoffs and insults and had my life threatened from one end of the land to the other by this God-forsaken gang of thugs and cutthroats because I have come out uncompromisingly against them.

"

―Billy Sunday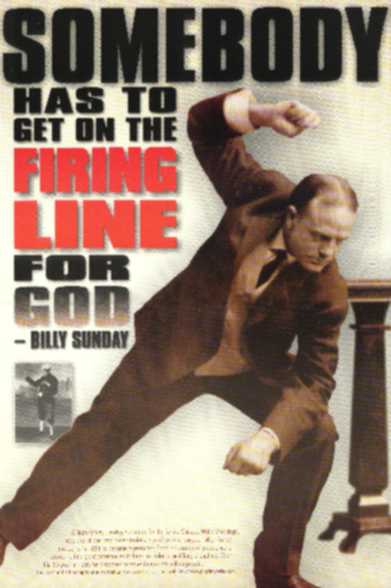 "...
Shall your brethren go to war, and shall ye sit here?
" ―Numbers 32:6
"

It would be a godsend if the Church would suffer persecution today; she hasn't suffered it for hundreds of years. She is growing rich and lagging behind. Going back.

"

—Billy Sunday, The Need for Revivals, from

"

Billy Sunday: The Man and His Message,

"

by William T. Ellis,

Philadelphia: John C. Winston Co., 1914

"Thou therefore endure hardness, as a good soldier of Jesus Christ. No man that warreth entangleth himself with the affairs of this life; that he may please him who hath chosen him to be a soldier." ―2nd Timothy 2:3,4
---
---

"

I'd like to close my ministry some day from behind this pulpit with one word to my people: "

OTHERS

! Signed, Your Pastor."

―Dr. Jack Hyles (Loyal Pastor of First Baptist Church of Hammond, Indiana for over 42 years!)
Lord let me live from day to day,
In such a self-forgetful way,
That even when I kneel to pray,
My prayer shall be for others.
Others, Lord, yes, others;
Let this my motto be.
Help me to live for others
That I may live like Thee.

---
I
love you and there's nothing you can do about it!
"

.

..speaking the truth in love

.

.."

―Ephesians 4:15
I am

praying for you, thank you for visiting

my web

site.

Come visit regularly―Everyone is Welcome!

"A free society is one where it is safe to be unpopular."

—

Adlai Ewing Stevenson

If you have found this website, consider yourself very fortunate, for most people never find the truth.

This website

ministry

will not be here forever.

Internet censorship is very near.

The

Antichrist

is coming. Save information on your hard drive! To Download Entire Website...

Wise men still seek Him!

(Are you really a Christian?)

How will you spend eternity? Smoking or Non-smoking?
"
And the smoke of their torment ascendeth up for ever and ever...
"
—
Revelation 14:11
Christ died, that's history; Christ died for me, that's salvation!

"Seek ye the LORD while he may be found, call ye upon him while he is near

.

" (Isaiah 55:6)

"And call upon me in the day of trouble: I will deliver thee, and thou shalt glorify me." (Psalm 50:15)

"...

Not by might, nor by power, but by m

y Spirit

, saith the LORD of hosts.

" ―Zechariah 4:6

About Jesus-is-Savior.com | Visitors About IT

(Stats)
This website created in Jesus' name!
Etichette: Afghanistan , BLOODLINES , CHINA battle , CIA , containers , Eritrea Christians , HUMAN SACRIFICE , illuminati , imprisoned , North Korea , Oppressive people , pornography , Satan disintegrate , Satanic symbols , Sex Education Program , SYRIA and Jihad saudi